Home
Rules & Info
Classes
Races
• Dwarf
• Elf
• Fae
• Gnome
• Half-Elf
• Half-Orc
• Human
• .Badger Kin
• .Beastial
• .Bright
• .Demon Spawn
• .Drow
• .Goblin Kin
• .Gold Heart
• .Half-Drow
• .Half-Sea Elf
• .Mouse Blood
• .Sea Elf
• .Shadow Child
• .Stone Blood
• .Triton Kin
• .Vampire
• .Winged
• .Wolfblood
Deities
Contact
World Map
Spells
Feats
Items & Objects
NPCs
Monsters
Downloads
Forum
Donate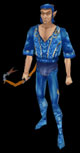 Elf

Elves in Aenea are known for their love of nature and devotion of artisty, be it painting, poetry, or any of the various martial arts. Elves can live to be over 700 years old, and by human standards are slow to make friends and enemies, and even slower to forget them. Elves are slim and stand 4 1/2 to 5 1/2 feet tall. They have no facial or body hair, prefer comfortable clothes, and possess unearthly grace. Many other races find them hauntingly beautiful.

In Aenean societies, elves see themselves as more civilized than most others, due in part to their long lifespans and artistic natures, and due in part to the fact that elven civilizations predate those of other races. They see halflings as kind, down to earth folk. Gnomes are considered to be strange, but their knowledge of alchemy and illusion magic is well respected. Dwarves are viewed as rather gruff and uncivilized, but their metallurgy skills and prowess in combat have drawn the appreciation of the elves for centuries. Humans are seen as short-lived and impetuous, yet are sometimes looked up to for their willingness to devote themselves to the pursuit of excellence. Half-elves are viewed by elves in different ways...by a few as inferior half-bloods, and by others as gifted with the opportunity to fully experience both societies. Elves have a long-standing hatred of orcs and their offspring (including half-orcs), and many elves view anyone with orcish blood as untrustworthy and most likely dangerous.

Ability Adjustments:
+2 to Dexterity
-2 to Constitution
- Elves are agile and lithe, but physically more frail than other races.

Aenea-Specific Information

Subraces: Elf characters have the option of taking on one of the following subraces: Demon Spawn, Drow, Sea Elf, Shadow Child, Vampire, or Winged.

Standard Information

Mostly unchanged, information for this race can be found at NWNWiki.