Home
Rules & Info
Classes
Races
• Dwarf
• Elf
• Fae
• Gnome
• Half-Elf
• Half-Orc
• Human
• .Badger Kin
• .Beastial
• .Bright
• .Demon Spawn
• .Drow
• .Goblin Kin
• .Gold Heart
• .Half-Drow
• .Half-Sea Elf
• .Mouse Blood
• .Sea Elf
• .Shadow Child
• .Stone Blood
• .Triton Kin
• .Vampire
• .Winged
• .Wolfblood
Deities
Contact
World Map
Spells
Feats
Items & Objects
NPCs
Monsters
Downloads
Forum
Donate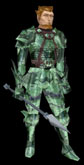 Half-Elf

Half-elves have the curiosity and ambition of their human parent, with the refined senses and love of nature of their elven parent. To humans, half-elves look much like elves. To elves, they look more like humans. Half-elves are paler, fairer, and smoother-skinned than their human parents, but their actual skin tones and other details vary just as human features do. Half-elves tend to have green, elven eyes. They live to about 180 years.

Half-elves are relatively rare, as the long-lived elves are reluctant to become emotionally bonded to short-lived humans. When they are born, half-elves are usually seen as a benefit to both human and elven communities, as they are naturally able to become part of both societies. Most ambassadors between human kingdoms and the Sylvan Realm are half-elves.

Ability Adjustments:
None

Aenea-Specific Information

Subraces: Half-elf characters have the option of taking on one of the following subraces: Demon Spawn, Half-Drow, Half-Sea Elf, Shadow Child, Vampire, Winged, or Wolfblood.

Standard Information

Mostly unchanged, information for this race can be found at NWNWiki.