Home
Rules & Info
Classes
Races
• Dwarf
• Elf
• Fae
• Gnome
• Half-Elf
• Half-Orc
• Human
• .Badger Kin
• .Beastial
• .Bright
• .Demon Spawn
• .Drow
• .Goblin Kin
• .Gold Heart
• .Half-Drow
• .Half-Sea Elf
• .Mouse Blood
• .Sea Elf
• .Shadow Child
• .Stone Blood
• .Triton Kin
• .Vampire
• .Winged
• .Wolfblood
Deities
Contact
World Map
Spells
Feats
Items & Objects
NPCs
Monsters
Downloads
Forum
Donate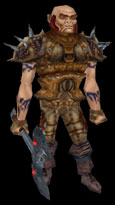 Half-Orc

Half-orcs are usually the offspring of an orc and a human slave. Most are from within the orcish empire of K'Nort Scrar (Empire of Blood). Derisively called "snor'kah" (slave child), such beings are usually physically weaker than their orcish parent. Within K'Nort Scrar, they are barely above slaves in social status. However, some half-orcs show a human's ambition and rise from their lowly beginnings to attain great power.

Outside the orcish lands, half-orcs take differnt life paths. Stronger than most humans, such people are drawn toward jobs that they find easy, such as manual labor or warrior duties. Half-orcs are prized as guards, as they are usually both capable fighters and their features make them more intimidating to others.

Half-orcs are heavily build, with broad muscles and noticeably orcish facial features, such as flattened noses, pointed ears, and enlarged lower canine teeth. When exposed to the sun for extended times, half-orcs "tan" toward the grey skin of their orcish parent, rather than the browns of their human parents. They are often short-tempered, both from their experiences in the orcish lands and their treatment by others outside of K'Nort Scrar. They rarely reach 75 years in age.

Ability Adjustments:
+2 to Strength
-2 to Intelligence
-2 to Charisma
- Half-orcs are physically strong, but impatient, stubborn, and often anti-social.

Aenea-Specific Information

Subraces: Half-orc characters have the option of taking on one of the following subraces: Beastial, Demon Spawn, Shadow Child, Vampire, or Wolfblood.

Standard Information

Mostly unchanged, information for this race can be found at NWNWiki.