Home
Rules & Info
Classes
Races
• Dwarf
• Elf
• Fae
• Gnome
• Half-Elf
• Half-Orc
• Human
• .Badger Kin
• .Beastial
• .Bright
• .Demon Spawn
• .Drow
• .Goblin Kin
• .Gold Heart
• .Half-Drow
• .Half-Sea Elf
• .Mouse Blood
• .Sea Elf
• .Shadow Child
• .Stone Blood
• .Triton Kin
• .Vampire
• .Winged
• .Wolfblood
Deities
Contact
World Map
Spells
Feats
Items & Objects
NPCs
Monsters
Downloads
Forum
Donate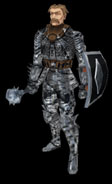 Human

Humans are the most adaptable of the common races. Short generations and a penchant for migration and conquest mean they are very physically diverse as well. Skin shades range from nearly black to very pale, hair from black to blond, and facial hair (for men) from sparse to thick. Humans are often unorthodox in their dress, sporting unusual hairstyles, fanciful clothes, tattoos, and the like.

In Aenea, human-dominated nations stretch across the main continent, from Macedonia in the northeast to the Calithian Empire in the west. Human societies vary in style and culture, depending on local history and the surrounding cultures. Humans are very social beings, building small villages and large cities alike. The people of larger communities tend to be more accepting of many others, while smaller communities may be suspicious of outsiders. Some humans tend to be curious and open to new experiences (many of these types end up as adventurers), while others are content with what they already know and have.

Humans usually see dwarves as hard working and industrious miners and metalworkers, and dwarven ales and whiskeys are prized amongst human drinkers. They see elves as a bit aloft, but are often envious of the inherent elven grace and longevity. Many humans think of gnomes simply as merchants. Halflings are often viewed by humans as somewhat lazy, but very useful when it comes to working with small objects or spaces. Humans are often jealous of half-elves, which inherit some of the traits of their elven parents. Half-orcs are often treated poorly by humans, who may have difficulty seeing beyond the half-orc's orcish features, although they are respected for their physical strength and fighting ability.

Ability Adjustments:
None

Aenea-Specific Information

Subraces: Human characters have the option of taking on one of the following subraces: Demon Spawn, Shadow Child, Triton Kin, Vampire, Winged, or Wolfblood.

Standard Information

Mostly unchanged, information for this race can be found at NWNWiki.